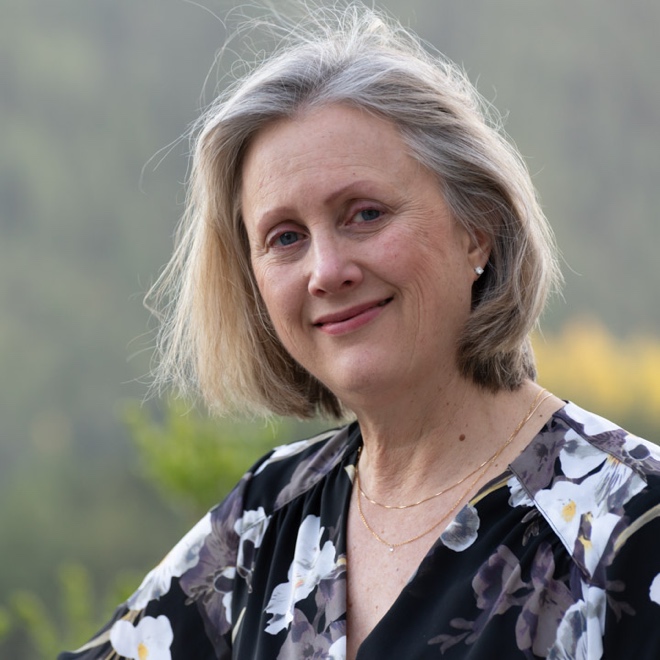 Terez Mertes Rose is a former ballet dancer and a compulsive lifelong writer. Penning nonfiction as Terez Rose, her work has appeared in the Crab Orchard Review, Women Who Eat (Seal Press), A Woman's Europe (Travelers' Tales), the Philadelphia Inquirer and the San Jose Mercury News, among others. She writes dance reviews for Bachtrack.com and classical music essays for The Imaginative Conservative. Additionally, she blogs about ballet and classical music at The Classical Girl (www.theclassicalgirl.com) and makes her home with family in the Santa Cruz Mountains.
The following is excerpted from a 10/30/16 interview with Freda Hansburg. Read the entire interview HERE
What inspired you to write this book (Outside the Limelight)?
Back in the spring of 2006, in my earlier days of novel-writing, my sister was diagnosed with an acoustic neuroma—a rare, benign brain tumor on the eighth cranial nerve. While the ensuing craniotomy and tumor removal were deemed a success, her facial nerve had to be clipped in the process, resulting in facial paralysis on one side, along with the more typical post-craniotomy brain fog, dizziness, single-sided deafness and ear-ringing that had worsened. Bad luck on my end, too: my completed novel went over like a lead balloon with my agent. She suggested that I try my hand at something incorporating ballet, which I'd touched on in my first, unpublished novel. So as my sister struggled with the aftereffects of her acoustic neuroma, immersing herself in therapies and surgeries and strategies, I set to work on a new novel. But it would only be in February of 2011, after the first ballet novel didn't sell, and my fourth novel didn't sell, and my agent and I were once again musing about ballet in fiction for adults, its absence in the current marketplace, that it all came together in my mind. I said to her, "what do you think about a ballet novel featuring two sisters, dancers in the same elite company, and one of them gets felled by an acoustic neuroma diagnosis and a host of post-op problems?" She loved the idea. And so I got to tell a new ballet story while concurrently telling my sister's story (although she's a nurse and not a ballet dancer). Which meant a lot to me; my sister has continued to struggle terribly since her acoustic neuroma removal, and there's so little I can do to help her. Telling the world her story, the struggles she and her fellow acoustic neuroma patients suffer, made me feel like I was helping in my own small way.

Do you have a favourite character, or in what ways do any of the characters represent you?
I love all my characters and I think in one way or another, all represent some side of me. That's the fun thing about being a writer; you can "find yourself," or work on thorny personal issues while projecting much of the burden of it onto someone or something else. Of the characters in this book, however, I felt particularly attached to Dena. She's the younger sister (I'm the seventh of eight kids), fiercer and more difficult, although her talent is more extraordinary. She's utterly screwed when this acoustic neuroma appears, sidelining her indefinitely when all she wants to do is pour her frustration, her heart, into her dance. But I dearly love Rebecca, the older, healthier sister, too. While she didn't suffer a dramatic injury that risked ending her career, the more pedestrian ailment of aging, being overlooked in the corps de ballet, year after year, threw the same difficult question at her. What do you do when you've devoted your entire life to one career, and that career's at risk of ending, very soon? How do you gracefully fight a losing battle with time?

What surprises did you come across when writing the book?
This book had three very different revisions over a period of years, and while it was hard and discouraging to recover each bump along the way, I'm so surprised and pleased by how the final revision turned out. There's humor in the story that wasn't in the first two incarnations. The sisters' relationship feels more real and organic now, sometimes adversarial, other times loyal and loving. As my sister and I muddled our way through our own difficult issues, the story seemed to take on more depth, always in pleasantly surprising ways. And there were a half-dozen "wow, I didn't see THAT coming" moments that it's probably a bad idea for me to share, because they're story spoilers. But, I have to say, these are the most wonderful gifts for a writer, these little "aha!" or puzzle pieces floating down from the heavens that fit the story so perfectly, you can only shake your head in wonder. It's also interesting to note that most of the surprises came while I was working on the final draft of this story. My little reward for toughing it out, never rushing things, and letting the story tell ME what it wanted to be about.
**
​
The following is excerpted from an 11/1/16 interview with EskieMama Reads. You can find the entire interview HERE
What books/authors have influenced your writing?
My writing has been informed by a very eclectic blend. Looking at my bookshelf right now, I see Jennifer Egan, Alice Hoffman, Bill Bryson, Elizabeth Strout, Meg Wolitzer, Ann Tyler, Jeffrey Eugenides, Maeve Binchy, Zoe Heller, Louise Erdrich, Jonathan Tropper (new discovery this past month!), Anita Diamant, I like books that are both lively and eloquent. I get bored if they become too lofty—the classics were never something I got into, a shameful admission a creative writer should never confess to, but, oh well, there it is. We won't even get into the collection of romance novels I accrued in my late teens and early twenties.
Have you ever had one character you wanted to go one way with but after the book was done the character was totally different?
Not totally different, but sometimes a character that I assume will be peripheral turns out to play a much bigger role in the story. And quite often, a character will take on a depth that makes the reader uncertain as to whether he's a good guy or a bad guy. I like doing that with my characters, but I know sometimes that frustrates readers. A lot of people don't want ambiguity. But to me, it enhances the richness of their personality and makes them more multi-dimensional and utterly human.

What's you next project?
My first novel, fifteen years ago, was a very intense project, ballet dancer goes to Africa, thinking she can outrun her problems back home, only to encounter worse ones there. Toss in a cross-cultural romance with an African man that consumes and reshapes her world, and it made for a great story. Naively, I was certain that book would be The One that did it for me, got me the book contract, the praise, the sales. Well, it didn't do any of those. But it did impress enough people for me to go back to it now, and rethink, rework. It's a great story with lots of humor and emotional charge. I'd like to inject more depth into it, coax out the ballet angle a bit more, and experiment with having one of the Ballet Theatre Chronicles characters show up, through letters or flashback. The story is set in the late '80's, so it would likely be one of the older, more peripheral characters, like April, a ballet master, and maybe a reference to Anders, the artistic director. The novel's new title (the old one was Black Ivory Soul) is A Dancer's Guide to Africa. Look for it in late 2018.
**
The following is excerpted from a 5/15/15 interview with The Book Adventures of Emily. You can find the entire interview HERE
Why did you pursue writing?
Years back, before I considered myself a writer, I unconsciously incorporated huge amounts of writing into my job in the hotel industry and later, as a sales representative for a furniture rental company. In fact, I can't help but chuckle now, thinking that, in some ways, the latter job's route journals were my first books. The company expected its outside sales representatives to maintain a log detailing sales calls, as one might expect, preferably a book for each route/day of the week. They'd created a photocopied call report, but I ignored that and created my own setup. So much of the job involved popping into multiple apartment complexes each day and just writing a few lines about each. Ten pages of dry reportage? Why waste the paper? Instead, I created something more like a journal. Much easier, the latter. It began to craft itself into a quirky, funny—to me, at least—recounting of a day in the life of a sales representative. When I left the job, two years later, I was saddest to leave those now hefty books behind. I have a hunch the other reps secretly hated me, because management caught wind of my efforts and used to parade the books around as to how they should be done. The other reps would stare incredulously, first at the books, then at each other, surely thinking, oh, right. As if. Writing became a career of default less than a year later when my husband and I were expatriates living in London. He was the one with the job, and it required frequent travel. To places like Paris, Milan, Frankfurt. So I went along (heck yeah!) and while he was in the meeting, I'd wander the city and do what I'd been doing at my other job: take notes of my surroundings, the people, the food, the adventures that sprang up as a result of my American idiocy and cultural miscommunications. Back home in London, the writing would continue to pour out of me, as both a meditation and therapy. Probably the most idyllic years of my life, this traveling and writing. When we came back to the U.S. two years later, I couldn't bear the thought of returning to sales. My husband, who'd seen how happy I was devoting five hours a day to writing, every day, told me to just keep writing. Lucky, lucky me, huh? So I did. That was twenty years ago and I just never stopped writing.
What inspired your book?
I wrote my first novel in 2002 about a ballet dancer who runs off to Africa to escape her problems, only to encounter thornier ones there. I spent over two years on it, lovingly crafting it, and while it didn't earn me an agent, it impressed one enough to say "great stuff but a tough sell. Keep me in mind, though, for the next one." Well, two years and a polished manuscript later, turns out she hated the next one, but she still liked my writing enough to chat with me, discuss what she felt my strengths were as a writer. "Why not a ballet novel for the next one?" she suggested. "I loved what you wrote about ballet in your Africa novel. It's a fresh topic [particularly back in 2006] and I think editors would take interest." The conversation took place on a Friday afternoon, and I told her, with a confidence I didn't feel, that "sure, I can make this happen! Let me tootle around with some ideas over the weekend and I'll touch base early next week."
Well. I am simply not that talented a creative writer. Essays, I can whip off in a few days' time, but novels? Even the core idea? Yikes. I finished the call, wandered outside to my front yard, and began walking in small circles, thinking, shit – what have I done? Because every aspiring novelist really, really wants an agent, and this was an agent I'd targeted as someone I really wanted to work with. I went to bed that night, mind blank, in a mild panic. Saturday, all day, I cast about for ideas with little success. And then, on Sunday in yoga class, it all came to me, spilling out like a tipped over jar of honey. An ex-dancer (like me). A rising star dancer (never like me, but ah, every dancer's fantasy, right?). Romance (always my favorite writing topic). The struggle to actualize not just professionally but internally. The struggle to face the difficult things in life you keep running from (a recurring theme in all my novels). The way friendships can both nourish and challenge you. All amid the glorious backdrop of the ballet world, where I'd devoted so much of my time, energy, love and attention, through my adolescence and young adulthood.
​
In the course of one afternoon, OFF BALANCE was born. I tore out of that yoga class, hurried home, hastily sat down in front of my desktop and stopped writing only to make meals for my family, get some sleep, get my son off to elementary school and various mandated afterschool activities, but my mind was always, always, inside my story. Three months later I had it, the first draft of OFF BALANCE.
How long have you been publishing your work?
Since 1998, and it was a thrilling experience that year, having a travel essay published in Big World, a now-defunct travel magazine. I'd been intensely focused on producing essays and creative nonfiction for two years, and submitting my work for publication for a year, with piles of rejection letters to show for it. Nothing beats the sweetness of that first acceptance letter, and those magic words: We love your work and would like to publish it.
**
---